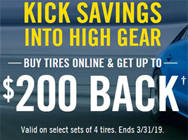 1. Click here to find tires with offers. Once you find tires online simply add them to your cart.

2. Purchase your eligible tires Select Westfield Tire And Muffler during online checkout as the installer and use any payment method to purchase a set of 4 eligible tires to qualify for the rebate. To double your tire rebate, use the Goodyear Credit Card at checkout.

3. Redeem your rebate After purchasing, you will receive a rebate form via email or you can download the rebate form. After installation you can submit your rebate online or fill out and mail it in, along with a copy of your email confirmation or invoice or receipt.